Links to whole new production presented in this way:
[2014-2012] [2011-2010] [2009-2008] [2007-2003]
---
Disco music genres
It happened in 1987. (New Year) when I found out about Italo Disco music. I was just 14, but I knew something special happened to me - I became addicted to beauty, harmony, and sound of this really remarkable part of disco music. First songs I heard were Albert One - For Your Love, Radiorama - Hey Hey / Aliens, Why Not - Smile, Mike Mareen - Love Spy, Latin Lover - Laser Light, Italian Boys - Gigolo, Robby Hood - Two Of Hearts etc...
There were groups that belong to German Disco, such as Modern Talking - Brother Louie, Fancy - Lady Of Ice / Bolero, C. C. Catch - Heartbreak Hotel / Heaven And Hell, Silent Circle - Touch In The Night, Bad Boys Blue - You're A Woman...
Very popular, 3rd part of of disco music, we called Canadian Disco, or shortly Canada, but in fact we were thinking of Hi-NRG: Patrick Cowley with legendary hit Menergy, Bobby Orlando - Whisper To A Scream, Divine - Shot Your Shoot, Girly - Working Girl, The Flirts - Passion / Helpless, Trans X - Living On Video..
There was quite a terminological mess as it still is all over the world. For example, German label ZYX published songs of German groups under the name "The Best Of Italo Disco"!? So is German Disco the same as Italo Disco or? Actually I differ Italo Disco and Italian Disco. So I call all of disco music production that we listen to Italo Disco. According to Bernhard Mikulski, the author of the term, it doesn' represent music from Italy, but music genre. Why Italo? It's because most of songs came from Italy. On the other hand, Italian Disco means Italo Disco songs made only in Italy.
Italo Disco (or Euro Disco) = music from Europe - Italy, Germany, Netherlands, Swiss, Sweden, Spain, England...
Italo also has one substyle, but not acording by the country where it was created, but more by feeling that it creates - it is travelling through the space, so it is called Space Disco. I would exclude Disco music from 70's from the term Italo Disco since it sounds different, but basically the idea is very similar.
HI-HRG = music mostly from America - USA, Canada, England (England is, from a musical point of view, very strange country, often doesn't fit into European music, it is more similar to America, not only regarding disco style but other styles too...)
eurodance disco radiorama modern talking 80s
ITALO DISCO:
Italian Disco: 1983 - 1988 + 20** production :)




[Eddy Huntington] [Den Harrow] [Fred Ventura] [Radiorama] [Lala] [Valerie Dore] [Fun Fun]
German Disco: 1984 - 1988


[Mike Mareen] [Fancy] [Modern Talking] [Linda Jo Rizzo] [Patty Ryan] [C. C. Catch] [Lian Ross]
Spanish Disco/Sabadell Sound: 198? - 1988


[David Lyme] [Daydream] [Kristian Conde] [Julia Claire] [Alan Cook] [Green Ice] [Steve Clark]
Space Disco/SpaceSynth/SynthDance/SpaceDance/Italo Instrumentals: 1984 - 200*


[Laserdance] [Koto] [Proxyon] [Cyber People] [Hypnosis] [Syntech] [The Why Not]
HIGH ENERGY:
HI-NRG (USA & England): 1980 - 1988

[Patrick Cowley] [Pete Burns] [Bobby Orlando] [Divine] [The Flirts] [Roni Griffith] [Modern Rocketry]
Canadian Disco (HI NRG from Canada): ???? - ????


[Gillian Lane] [Stephanie Wells] [Trans-X] [Valerie Krystal] [Lime] [Susan Stevenson] [Suzy "Q"]
> many of the #1 records in North America were produced in Canada, and often licensed by USA and European labels so many DJs started calling it Canadian Disco, also some Italian producers lived in Canada (Giovanni D'Orazio, Antonio Bentivegna...) and made music there. So one more reason to call all of it Italo :).<
About Space Disco:C/P from SpaceSynth site:

Spacesynth, synthdance, spacedance, spacedisco or whatever you want to call it is instrumental upbeat synth music that focuses on melodies instead of rhythm. Driving basslines, catchy synth riffs, sci-fi influences and futuristic track titles and album covers have always been a major part of spacesynth.
Spacesynth originated in the mid 80's. At that time synthesizers and electronic sounds had become an essential part of popular music and were widely used by such artists as Vangelis, Jean-Michel Jarre, Kraftwerk and Art of Noise. Synthpop hits like Magnetic Fields 2, Pulstar and Magic Fly are well known tracks even today.
In the meantime in Italy a music style called Italo disco was dominating discos. Basically Italo Disco consists of rather simple vocals, melodic synth riffs and a four-to-floor beat. It had that recognizable 80's disco sound that people either love or hate these days.
Italo disco became popular in other parts of Europe too. At first spacesynth was just an instrumental version of Italo Disco focusing on the synth side of Italo Disco. But eventually it became a genre of its own. Cyber People released successful singles "Polaris" and "Void Vision" for the Memory Records label. Koto developed his own Italo-inspired synth music style and the single "Visitors" was a big hit in 1985.
Soon after there were other similar groups - also outside of Italy. Erik van Vliet from The Netherlands established Laserdance and together with Michiel van der Kuy Laserdance became the most successful spacesynth group ever. Their debut album "Future Generation" (1987) sold approximately 150 000 copies and the singles "Powerrun" and "Humanoid Invasion" were big hits in Europe. Koto and Laserdance could be considered the most popular spacesynth groups. They set the standards of the genre and since the golden era of spacesynth many producers have tried to replicate that sound.
---
So after first obsession with all of Italo, some songs were stressing their quality. I was really impressed with Mike Mareen, and the best song Love Spy. Many various sounds implemented into harmonic complex where energy simply bursts. Seems like in that song, the same as Mozzart - Money, we can find beginnings of music we even didn't know that will appear - EuroDance. Very fast, energetic rhythm with modern technical improvement gives perfect results. We can be happy to live in presence. I wonder what will the future bring...
And here we are - three big Italo fans from Croatia: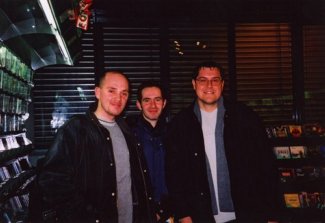 Me (Alen) and my friends: Denis & Zeljko
(from left to right)
site created: 14.12.1998.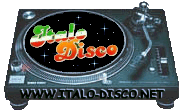 Greetings from Croatia, Europe