28.12.2008.
New album by new group from Finland named Moonlight Affair. This name sounds so familiar :) You can listen to their first album Calling For Amore with eleven songs. I like it very much, finally some new "German" sound next to usual Italian. There is also one free song - Calling For Amore (single version) as New Year's gift for you from Moonlight Affair. So listen to this album and if you like it please buy it to support them. As they say - work on the second album is already in progress, it has a bit different sound. Let's hope they will remain this quality!

26.12.2008.
New video to download Roxanne - Charlene.

24.12.2008.
2K Italo Disco comes only from Europe, right? Wrong! Here we have a new singer from Russia! Her name is Elen Cora and this is her mini album with three songs. It is Internet release only, and it comes as Christmas gift for you since those are free 320 kbps mp3s for you to download. There are also sample versions for preview. And that's not all. Next year we will have a chance to hear her album in cooperation with her group. But more about it next year!

21.12.2008.
New video to download Lian Ross - Fantasy.

18.12.2008.
Added Flashback MiXmas for you to listen. Sample is usual 32 kbps so you can listen to it. If you like it, you can download full mp3 for free! (92 MB)

17.12.2008.
Added full sample - Jimmy McFoy - Do You Believe (Club Mix).

16.12.2008.
New video to download Deborah Kinley - Surprise. Added album from 2005 - Synthesizer Dance Christmas Edition. Listen to Christmas songs in Space Disco versions! Nicely done!

06.12.2008.
New video to download: Max Him - Japanese Girl. And some great news about records: finally published Peter Arcade - Italo Disco and The Fairytale. Mention - Strange World. Jimmy Mc Foy - Do You Believe. And last one is record by Dario Dell'Aere & Fockwulf 190 with three old republished songs and one new remix: Eagles In The Night, Tumidanda, Height Of The Flight. New one is No Sex (Fockewulf 190 Remix).

29.11.2008.
New video to download Alan Cook - Bad Dreams. New sample by Peter Arcade named Italo Disco :) This small sample sounds great, I guess that this song will be a hit! Added full sample of Buckingam Palace - Give Me Your Name and Ultra Nate - Love's The Only Drug.

22.11.2008.
New video to download Jermaine Jackson & Pia Zadora - When The Rain Begins To Fall.

17.11.2008.
A few words on mp3 samples. New addition to samples - Italo Energy from 90's. I don't like many songs from that genre, but for you who do - whole collection of Super Eurobeat Collection without mixes, I'll add them later. All of samples work now, you can use one of two flash players or use direct download page to listen/download. If you want to listen from that page, just drag link to your mp3 player (WinAmp or some other). So on introduction page there are numbers 1 and 2. Those are players. DL is page with samples - links. 80's Italo Disco DL and 90's Italo Energy DL have one page with samples. 2K Italo Disco has DL1 - maxi singes and DL2 - albums page. And last one - 90's CRO Eurodance DL is link to full mp3s so you can download songs there if you like something...

15.11.2008.
New video to download Leslie Mandoki - Korea.

08.11.2008.
Finally all mp3 players are working fine. There were many problems with standards, specifications etc.... But now it's rockin'! So from now on there are two players for each section. First one is named Wimpy, and it is the one that you're are used to. You can use it to listen to music or download samples. The other one is Ephonic. You can listen to music, but you can't download samples. This one has modern skin. Check them up! Just one note - be patient for playlist to load, it takes some time since there are many songs in playlist to be loaded! And one announcement - there will be a new record soon by Tiziana Rivale with two songs: Ash and Flame. Mp3 samples are available but not full lenght. In my opinion these songs are nice but not perfect. Enjoy! There will be one more records, but you'll get info on time.

07.11.2008.
New video to download Julian - Straight To My Heart.

05.11.2008.
New additional domain! Since there are some problems with domain www.italo-disco.net, I bought a new one www.italo-disco.info, so please use it untill I fix the old one.

31.10.2008.
New video to download Divine - Walk Like A Man.

24.10.2008.
New video to download Den Harrow - Future Brain. And there is one good news - thanks to Google adds and you clicking them, I got some money so I'll buy web space at another provider that supports streaming. It means that flash players with samples will be online soon :) I hope that I'll solve this tricky situation with domain www.italo-disco.net soon...

17.10.2008.
New video to download Claudja Barry - Work Me Over.
And some technical data. Unfortunatelly Flash players don't work anymore. My account was canceled due to a streaming of 10 GB a month. So it means that you listen to those players very much if average sample is about 1,5 MB :). So now you'll only have an option to search for song on page, click the link and listen to it on your WinAmp (this way possible so far too). But, I will not give up, I'm searching now for a new provider.
And there is also a problem with domain www.italo-disco.net. That's why sometimes you can't enter the site. So untill the main address will work properly, bookmark and use alternate too:

10.10.2008.
New video to download Fancy - Flames Of Love.

14.09.2008.
New video clip to download - Fancy - Chinese Eyes.

05.10.2008.
New songs released after some time! It's Dyva - My Love, and one song originally performed by Marc Fruttero - If You're Feeling Blue on the same maxi. Both of them are great! Fred Ventura has new song I Want You Back and on the same maxi there is remix of Open Your Eyes. I'm very glad to inform you about next song - it was published only as 7'' (single) record, but song is really nice and it deserved 12'' version. We'll be able to buy it soon: Buckingham Palace - Give Me Your Name. And one more - Peter Arcade is back with the new song The Fairytale. I don't know when will it be released, but we will not have to wait for a long time. I don't have full samples, but you can use those that are available untill I buy records and make full length versions... And videos to watch are back again!

03.10.2008.
Two new videos to download since I didn't have time to upload last week - Joy - Hello and Fancy - Flames Of Love.

28.09.2008.
And here is one private info: my daughter (brand new Italo fan!) Nina was born on 28.08.2008.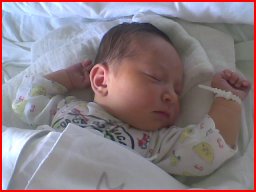 Who knows, maybe she will continue with developing this site one day :)

20.09.2008.
New video clip to download - Kano - Another Life.

15.09.2008.
New video clip to download - Fun Fun - Hitmix.

07.09.2008.
New video clip to download - Divine - Shoot Your Shot.

29.08.2008.
New video clip to download - C.C.Catch - Heaven And Hell (Formel Eins).

23.08.2008.
New video clip to download - London Boys - Requiem.

15.08.2008.
New video clip to download - Italo Boot Mix 9.

10.08.2008.
Added full duration samples for records: Marc Fruttero - Fairyland (enjoy Disco Silvia!), Monika Novak - Living On The Run, Bruno Mosti - Zero Gravity.

08.08.2008.
New video clip to download - Italo Boot Mix 8.

05.08.2008.
Added missing samples to Marc Fruttero's album Fairyland, but not yet full duration (* mark).

02.08.2008.
Note from Disco Digitale:
Live At Storan Gothenburg (a part of the Way Out West Festival), 07 aug 2008, Kungsparken 1 Gothenburg, Västra Götalands län SWEDEN. Beskrivning: Disco Digitale have been booked for a new gig next thursday at Storan in Gothenburg. As a part of the Way Out West festival a few clubs has been selected to start up this event on thursday 7, and we will perform at the "Klubb Populär, Way Out West " scene at Storan. We promise to play 3 new songs from the upcoming album that we never performed live before. So come join us Thursday 7 August More info see: www.discodigitale.com, www.wayoutwest.se, www.klubbpopular.se, www.storan.nu.

01.08.2008.
Just go to Video Clips page and search for Sabrina. I'm not gonna tell you more, you have to see it for yourself ;) Also new video clip to download - Italo Boot Mix 7.

29.07.2008.
Added full samples for 2K Italo Disco for almost all of songs (both maxi singles and albums). So check up if you have skipped some of songs. Record marks changed into green colour *. Also added a new sign *. I don't get all of records as soon as they are on the market so I have to use samples that I can find around and it's usually just a part of a song. I'll put this red sign next to them so that you can know that it's not my sample. So when I remove that red sign - it means that I uploaded full sample.

27.07.2008.
After longer period finally we have a chance to listen to the new Marc Fruttero's album Fairyland. Full samples of all songs are following soon... Here are a few words on it by Marc:
After a long tribulation, my album "Fairyland" has been finally released! It had to be printed at the end of 2006, but the label has postponed it many times, but… better late than never… I know some music lovers were waiting for it, and now, they have the chance to order it from Flashback records' site. A bit later, some other on-line shops will have the chance to sell it. This new album is pure 80s style, and only contains Dance tracks. Some people might call it as a typical Italo disco album; some others will say it's too "refined" to be called Italo. They, and I, simply say it's a typical 80s Dance album. Some tracks, as "Divertissement" for example, are original unreleased songs, entirely recorded in the 80s. Some others like "Darkness" Turin Mix, "Crying for love" or "Tell me now" were partially recorded during the second half of the 80s, but restored or finished later. Some others like "Memories", "Please my love" or "Moments of surprise" have been recently recorded, always with a pure 80s style. The label wants to point its attention to "Disco Silvia", a track that opens the album, and was created at the very beginning of the 90s as a pure joke. Kimmo Salo, the producer, liked it's theme, and the song has been totally re-recorded with an entirely new 80s "shaped" arrangement by Andrea Cofrancesco from Rome. C. Bihlmaier added some additional music too. An extended version of "Disco Silvia" might be released as a separate vinyl maxi-single. We still don't know when. Unfortunately, a Dance mix of "When the snow falls down" (Duet with Francesca Oliveri) has been omitted. People that would be interested in the original Easy-Listening version, will always found it included the other Cafepress CD Just for the record…, available at www. cafepress. com/marcfruttero

25.07.2008.
New video clip to download - Raf - Self Control.

18.07.2008.
New video clip to download - Laura Branigan - Self Control.

13.07.2008.
New video clip to download - Lili & Sussie - Oh Mama.

09.07.2008.
As I promised recently - you have a chance to hear new HI NRG song (still demo version) by legendary group Tapps. Song is named Reasons Why. Nice even as a demo, let's wait to hear final version. If you would like to comment this song, go to Tapps MySpace page, they are waiting for you... Also new CD single by Kylie Minugue - The One. Song is taken from her last album X and it is 4th single. Release date in UK is 28.7.2008. Visit link CRO Dance - added links to some sites with mp3 download...

06.07.2008.
New video clip to download - The Flirts - Passion.

02.07.2008.
Information for ppl from Greece: 80's & Italo Disco night on Friday (11th of July) at open bar Ermou & Agias Theklas 12 (located at Psiri/Athens in the center of the city-metro station Monastiraki).

01.07.2008.
Found out details about song by Carol Jiani & Evelyn Thomas. Songwriter is Peter Wilson and here is his note:
The song with Carol Jiani and Evelyn Thomas is called "Are You Man Enough" and we should be doing vocals in about 4-5 weeks. The song will be on Carol's album and it sounds a little bit like Kylie Minogue's "In My Arms" mixed with "Can't Get You Out Of My Head". It's still Hi NRG, but very current sounding. I hope everyone will like it. I know Evelyn told me she is very excited about the project. We are all excited. I will tell you more news as soon as I can. Pete.

28.06.2008.
New video clip to download: Silent Circle - Danger, Danger. And note from Tapps: Tapps is going back to Mexico on August 2nd to perform at Centro de Convenciones Tlateloco in Mexico.

25.06.2008.
Two more records from Iventi team: Monika Novak - Living On The Run and Lovely Witch, Bruno Mosti - Zero Gravity (finally we have extended version). My favorite is Living On The Run, smashing hit!!! I don't know what is going on but new songs are getting better and better :) And one more note - Carol Jiani sent me a message about new songs in cooperation with Evelyn Thomas, here it is:
It is official this is Carol Jiani it is with great pleasure that l announce that my friend the Diva Evelyn Thomas and l will be collaborating on a duet to feature on my "High Energy Album" This will be released as a single as well with a mega mix from aha surprise Superstar Dj . l am so excited about this project we spoke about this many many months ago and l feel this is the time to bring back class to the business, we owe our fans and this is our thank you for keeping "High Energy" alive. Special thanks to Peter & Chris T 1 productions you guys made it possible. The Diva of all Diva's Evelyn Thomas "High Energy" Most humble in the business thank you. We are bring back class just in time for the Winter Music Conference. Coming Soon, Carol Jiani
There is also one more High Energy song Tapps - Reasons Why. It's still demo, but I got a sample and I'll upload soon...

21.06.2008.
Interesting news this time - I got a note from Brian Ice that he finished a movie where he was acting. It is named Brokers. Seems that he is multitalented guy - singing, acting, modeling... And above all - nice person! It is not his first movie, to check others click here. Also got a tip from George Aaron and Alberto Signorini (Styloo) - both of them are gonna release a new song soon. I can't wait to hear them... New video clip uploaded - Danuta - Touch My... hmmm... Heart! I'm one day late this time, but somehow I'm sure that you're gonna enjoy this one ;)

13.06.2008.
New video clip to download Stacey Q - Two Of Hearts.

08.06.2008.
Two new records from Flashback! Riccardo Campa - Another Day and Bruno Mosti - Music Of My Star! Your vote for buying records is over! I needed data in order to check up what are your preferences in buying records since it is kind of general opinion that many people who buy Italian disco do not buy German disco and similar music with sweeter melodies. So here are the results (this sounds like a Eurovision :) - Italian Disco: 20 votes, German Disco and similar: 17 votes, Both Italian & German Disco buyers: 27 votes. Very interesting results, I expected both styles together to reach 90%, and separate styles about 7% + 5%... Unfortunatelly we can't buy any new German Disco nowdays as far as I know. Who knows, maybe this changes one day... I would love to hear new Fancy in old style!

06.06.2008.
New video Mauro - Bouna Sera Ciao Ciao uploaded . I have to transfer domain to new provider and that might be a bit problematic. If domain www.italo-disco.net doesn't work, use www.listen.to/italodisco. This is direct link. But I think that everything will be OK with main domain. If ever happens that you can't open my site for few days, go to site www.italo-interviews.com, I'll ask Zeljko to put info about this site on his site...

01.06.2008.
Link Updates removed from the menu. The sam thing now under link Updated. Also my MySpace page added to the menu.

30.05.2008.
New video clip to download The Flirts - Helpless. Finally we got a chance to get new Amba - Release!

23.05.2008.
New video clip to download Roni Griffith - Desire. Finally I got the record Fred Ventura - Memories, so other two more versions are added to samples.

21.05.2008.
I have one task for you but ONLY IF YOU DO BUY NEW 2K RECORDS. I need data - how many of you make difference between music from Italy and from all other countries and would you buy some new record that is composed in German Disco way (a bit sweeter melody of singing and instruments). So you have options:
1. I buy Italian Disco only
2. I would buy German Disco, Spanish Disco and others if I had a chance but not Italian
3. I would buy Italian Disco, German Disco, Spanish Disco and all other similar subgenres
Please do not vote if you're not into buying records because I need precise data! Thank you!

16.05.2008.
New video clip to download Lee Marrow - Sayonara...

09.05.2008.
After some time, site is hosted at new server thanks to Google adds and you who check up those link. So from now on enjoy full duration samples. Also I added shortcuts to sample players and radio stations on Intro page. Sample players are made in Flash technology so you'll need to install Flash player. If you have it installed, check up if it is the last published version... Link CRO Dance consists now of two pages - samples and videos. WMP radio player 128 kbps added at the bottom of menu, under Picture of the day. You'll need at least resolution 1280x1024 to see it. Change radio stations with buttons next (>I) and previous (I<). If you use Firefox, you'll need a plugin, try to find it here. Also four songs added! Fred Ventura finally published great song Memories. One of my favorite of 2K songs. Recently I discovered two remixes by Claude Monnet and this guy is great! Just listen to his version of Sumo feat. Clarisse Muvemba - Nini and Lifelike & Kris Menace - Metropolis (you can skip original versions since they are no good). You can buy vinyl or mp3. Third song is Dreamtrak Diamond Sound - Meltdown. Zeljko found this song on My space, but this guy is not responding to email about purchasing this song, so I guess he still did not publish it. Counter of visits above menu on the left replaced by one made in Flash technology, so if you don't have Flash player installed, it will ask you ech time you visit this site to install it by popup window. If you wanna prevent it, click on it "More options > Never install > Don't install". And new video uploaded for you Chriss - Sweets For My Sweet...

02.05.2008.
New video clip to download Silent Circle - Stop The Rain...

24.04.2008.
New video clip to download - Scala - Macchina Nera...

18.04.2008.
New video clip to download Scotch - Delirio Mind...

13.04.2008.
Interview with Linda Jo Rizzo is now online! This time I couldn't resist to ask her some questions since she is kind of unique singer - she was first into HI-NRG, and afterwards into Italo Disco. Also the fact that she was working with Bobby Orlando and later with Fancy is intriging by itself and questions pop-up easily... So this time Zeljko and me made this interview together. I hope that you'll find all of answers to your questions about Linda... * New maxi by Cato Camari / Balthazar - Are You Sure?

11.04.2008.
New video clip to download... New album presented - Culture Dub. Some of songs on album are similar to HI NRG and others are Eurodance...

10.04.2008.
Italo disco party in London. To find out more look at link Italo Party. * Finally we have a chance to get our copy of CD by Marc Fruttero! After some technical difficulties at the beginning - here it is! Original demo versions came straight from 80's, they have never been published so far, so it's a new stuff from the past. Enjoy it! * All of samples uploded (for two records) for Sally Shapiro! * And note for Eurodance fans - Bad Boys Blue have a new single - Still In Love!

09.04.2008.
New page added, named CROVideo. Check it up to see what it's about... I guess that you don't know anything about it :)

04.04.2008.
New video clip to download - Curacao - Yiasou...

28.03.2008.
Disco Digitale is back with new song named Aurora. They are that kind to offer it for free so you can download two full versions in mp3 format. You can also download wav files if you prefer them from Disco Digitale page. New video clip also added Bobby Orlando - Whisper To A Scream.

25.03.2008.
Another maxi single for Delivery Records by Galaxy Hunter. Vinyl consists of two songs in two versions. Earth versions in full length and space versions shorter for now, but soon I'll upload whole duration samples.

21.03.2008.
New Space Disco style album by Anosphere named Timetraveller uploaded. This time full duration samples as I recently promised. Also new video clip uploaded... And all of you who like Marc Fruttero will have to wait a bit more for his album. As Marc told me, there are certain technical problems and when they are solved, I'll let you know... Video of the week: Radiorama - Warrior.

16.03.2008.
GuestBook updated with new comments... Thanks for your kind words! Links in menu reorganized according to your interest.

14.03.2008.
New video clip to download Bobby Orlando - A Man Like Me... And info about page MP3 Samples - soon I'll transfer site to another server with 10 GB of space and unlimited bandwidth thanks to Google adds, I hope that it will cover the hosting expenses. And yes - it means full length samples, no more two parts of the same song and only four minutes duration. Also, I'll upload even more samples for you :)

11.03.2008.
Added sleeve for Fred Ventura - Memories, scroll down to take a look at it, point mouse to it to see B side, nice design. Release date - April. Great, I'm really excited about this song!

07.03.2008.
New video clip to download - Radiorama - Chance To Desire.

03.03.2008.
Three a bit older records added to 2K Italo Disco. These records are fantastic Fred Ventura - Live At Stubnitz, Jupiter Black ft. Fred Ventura - Hold Me and Ultra Nate - Love's the Only Drug (this one reminds me of Patrick Cowley :)) Check them out!!! 2K Italo Disco page reorganized into three sections: maxis, albums and demos...

24.02.2008.
New video clip added - vinyl also released just recently - Sally Shapiro - Jackie, Jackie (Spend The Winter With Me).

24.02.2008.
Gazebo made a new song Ladies!. Actually it is a whole album with 15 versions of the same song. One version is perfect and that's it, you can forget about others. Actually Gazebo made original version and gave DJs a chance to make their version. Andy Romano Flashback version is really something! If you like Lian Ross, you're gonna love this one :) Those 15 versions you can find on CD. There is also a record, but without this version?! Crazy...

22.02.2008.
Marc Fruttero will release a new album in February. A 80s demos collection, plus a few unreleased masters. The album also contains a 1985 demo for Darkness, the original Easy listening mix for When The Snow Falls Down, duet with Francesca Oliveri (Aquarius project), and first If You're Feeling Blue demo arranged by L.A.Messina, on music by Dyva. At the end, two modern remixes of Darkness and Magic. New video clip added.

20.02.2008.
Top 20 updated with full duration of each sample, sleeves added. Whole site under some changes - small improvements...

17.02.2008.
Link DataBase (Discogs) added to the main menu. The most complete info about records, producers, labels etc...

16.02.2008.
New song by AmbrA - Release will be published soon... Same (now well known) sound plus great voice. I really love them! Also you can expect new album by Marc Fruttero!

15.02.2008.
New video to download - The Twins - Face To Face, Heart To Heart...

08.02.2008.
New video to download - David Lyme - I Don't Wanna Lose You.

05.02.2008.
Three new great records! They are not published so far, but Sally will be in february and Fred said that he's not sure about Memories, but it will be published for sure. Don't miss song Jackie Jackie, is't a bit different and great! And new song by Fred and Alden. Can they make a bad song when working together? I don't think so. This song will prove it, it's perfect! And last one - Space Woman From Mars. Not that good as two previous songs but it's good...

02.02.2008.
Another video available to download - Venus - Hot Sun On Video

25.01.2008.
Another video available to download. WebPlayer for samples (Mp3 Samples link) working again! Yet, page is almost 1 MB so it takes lots of time to load if you surf by 56K modem!

20.01.2008.
Zeljko made another interview with Fred Ventura. This time it's proper one, it's not short like the one from 2000. Enjoy...

19.01.2008.
New video clip to download (OK - Okay)... Samples are OK now, most of them 2 minutes,, some more versions added...

17.01.2008.
New Intro page with new records - sleeves, samples, WebPlayer, updates and site search form. BTW, some samples end too fast, I'll fix it ASAP. Sleeve slide show added under the menu on the left, you need resolution 1280x1024 to see it.

12.01.2008.
FlashBack Records label page uploded. Listen to this great new old Italo sound. Link - New Italo Disco...

08.01.2008.
Again you can download videos from this site! New videos every few days... Visit link Video Clips...

01.01.2008.
Happy New Year! As every year, there are some mp3 gifts for you, this year thanks to the peolpe from the forum who upload music. Join us for more...

30.12.2007.
Online Radio page upgraded! Now there are web player and everything connected to listening to radio by WinAmp! Try it, works great...

29.12.2007.
NewItalo Disco songs are present again!!! So here you'll have all of them at one place. So far there are WhiteRose and Iventi Records pages with covers and samples, but soon I'll add all of them. Click link New Italo Disco!

16.12.2007.
Cro Italo Party 2! Napokon nakon mjeseci cekanja... 5.1.2007, Zagreb. Vise o ovome procitajte na linku Cro Fans > Sastanci!

25.11.2007.
New Italo Disco Forum online - click link Forum. Join it and exchange music with other fans.

24.11.2007.
MP3 Samples - working again after longer time!!! This time enjoy 4 minutes of each song :)

12.11.2007.
ABBA concert in Zagreb, 13.11.2007, dvorana Lisinski!!!
MP3 Samples - finally Webplayer works now, download section will be finished in a few days...

15.07.2007.
> MP3 Samples page is improving... Untill now samples were about 1 minute. Many of you complained about that so I created 4 minutes samples. You can enjoy it, it's ever longer than some single versions last :) So far you can listen to letter A. Others will be updated from time to time...
> Cro Italo Fun Club Party 2007 * - kao sto i sami vidite, još nisam objavio točan datum jer ga niti sam ne znam. Očito organizatori nisu uspjeli obaviti sve u predviđenom roku... Javim kada doznam nešto više...

12.05.2007.
Online Radio page rearranged. It's easier now to browse between the stations.

09.05.2007.
New Italo Disco forum online! Join us and download/upload music and share thoughts... Languages: Croatian and English! Note about registration since it's in Croatian. To register click here. ***Notes for english speakers*** Translation: Korisničko ime=Username, Zaporka=Password. After you enter all of it, click Posalji (Send). New page is opened. Enter your password again and click Posalji (Send). If you get some error note, it means that selected username is already taken or that your password is too simple. Check out what is the problem and go through registration again... You will receive email in your inbox. Open it and click activation link. Now you can go to forum and use your username and password to enter the forum...

28.02.2007.
Also check out MP3 Samples - now available for listening over web player (options - listen to all one by one, listen to all that start with same first letter or choose wanted song at once). And also, you can also download if you like some sample...

27.02.2007.
Check Videos page. New videos uploaded! I'll try to upload new video every day...

26.02.2007.
CRO Italo Disco Party odgođen za travanj! Još jedna skupina fanova je neovisno o nama htjela organizirati Italo party pa smo odlučili da će biti najbolje da se ujedinimo da nas bude što više. Pokušat ćemo uključiti i medije pa da sve skupa dignemo na malo višu razinu. Vas molim da obavijestite sve za koje znate da slušaju Italo da nas bude što više! Detaljnije informacije slijede, sorry što ste čekali malo duže na ovu poruku, ali bio sam totalno zauzet. Obećajem da ću biti ažurniji :)

29.01.2007.
One more radio station from Brazil added - "Eurodisco Station".

14.01.2007.
Online Italo Disco radio page added. Listen to many stations over the web... You can even use 56K modem...

22.12.2006.
My gift for you - 15 enjoyable songs to listen to...

09.12.2006.
CRO Italo Disco Party! Bok svima koji slušaju Italo, a žive u Hrvatskoj ili u susjedstvu! Razlog zbog kojega ovo pišem je drugi sastanak Cro Italo fanova! Nakon prvoga, koji se održao u piceriji Colonia, ovoga puta nam vjerojatno slijedi provod u jednome zagrebačkom disco clubu. Još uvijek vam ne mogu ponuditi detaljne informacije, no računajte na jedan vikend u siječnju.
Detalje ćete moći pročitati upravo ovdje... Onima koji su učlanjeni u Cro Fan Club šaljem mail, a ostali neka navraćaju na ovu stranicu... Pozvani su, kao i prvi puta, ljudi iz susjednih država pa ako vam se da potegnuti do Zagreba, dobrodošli ste na Italo party!

22.11.2006.
Another 60 rare midi files added. Guys who are composing them deserve our gratitude. Most of them are from Russia...

27.08.2006.
Added lyrics and pictures by Dyva and Marc Fruttero, song samples coming soon... Corrected lyrics by David Lyme - Bambina.

27.08.2006.
Another new page with midi files. I don't know where else you can find them, that's why I offer them to you. You can also upload them to you mobile phone if it supports polyphone melodies...

26.08.2006.
Now you can watch performance by some singers from Mantova if you missed it or simply remind yourself what was it like. Sorry because of waiting for so long for pictures, but I have to edit them a bit and didn't have time so far...
New interviews added - Dyva, Marc Fruttero and The Twins. Zeljko did all of them so it means that you gotta read them, he is excellent as always...
Streaming online Italo Disco radio on home page - 24/7. Note - it works only if you have fast Internet connection. And that's not all. There are even four stations. Click button >I to switch between them. Enjoy! I do ;) (it works only with Internet Explorer!)

18.06.2006.
Održan prvi sastanak Italo fanova iz Hrvatske - 10.06.2006. - par riječi & fotke...

01.06.2006.
Sastanak Italo fanova iz Hrvatske - subota, 10.6.2006., 18 sati, picerija Colonia, vise o tome na linku CroFans...

25.02.2006.
Finally of samples are on mirror site. You should be able to enjoy it without any limits! So go on :)
We got one more lyrics. It's Savage - Only You - thanks to Berkant.

16.02.2006.
More mirror mp3 samples added, letters K, L, M, N, O. Soon I'll the rest of samples to mirror site. You can't click some song and listen to it. Instead of that, run mp3 player and drag on it song that you want to listen to!!!

09.02.2006.
Since you've been complaining that you can't listen to all of mp3 samples, I will use mirror database. There will be about 7 GB of bandwidth per month. I guess that it will be enough :) Now you can listen to all of songs, but notice - you have to rightclick song and use option "Save Target As..." If you simply click song, you get an error page... I will add songs with missing letters soon..